Sustainability as a Life-Style
Surely we can find men's clothing out there, even clothing focused towards sustainable fashion. But we wanted to go a step further. Through our love of artisanship, it was important for us to include this aspect of fashion into our clothing.
We work to combine organic fibers, with natural dyes, and sustainable artisanships across India. We are in constant experimentation and learning. Not only on improving our garments, but in working with our artisan partners to help us help them.
Natural Fibers
We are compromised to work only with natural fibers. At the time being all our collection is made of Organic Cotton.
Cotton is one of the most polluting crops in terms of pesticides used, but it is also one of the most unsustainable in terms of water consumption.
However, the feeling of cotton is just incomparable to any other fiber. So we have focused our styling and production to go around Organic Cotton.
Our Organic Cotton is GOTS Certified. We only use combed cotton with medium or long staple.
Organic cotton has a 62% lower energy demand than conventional cotton, uses 70% less water, zero pesticides and has 46% less global warming potential. This makes this fiber a much more friendly option, reducing noticeably the carbon footprint.
Natural Dyes
We work with two different natural dyeing processes. One that uses a mordant (Alum) which is neutralized in the dyeing process and before discarding the residue.
Another method does not need use of a chemical fixer, instead the dye is fixated via natural ingredients. However, the dyeing process requires a great amount of heat as garments and fabrics are dyed via steaming.
The Dye Houses we work with are located in India in the regions of Gujarat and Tamil Nadu. They come from a long lineage of dyers, some of which left natural dyes to focus on contemporary chemical dyes.
This last generation, more integrated with their surroundings, and the need of a sustainable fashion industry that protects their rivers and land, have regained access of their ancestral techniques and improved them in order to work towards a sustainable fashion industry.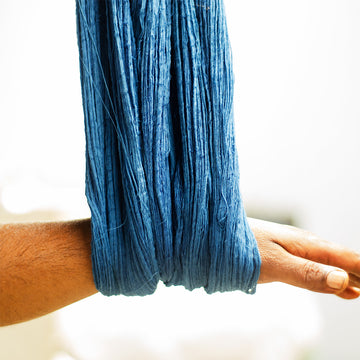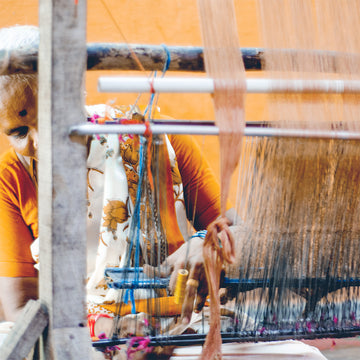 Artisans
We are committed to paying Living Wages. However, we know the market well enough to know that workers not always get their fair share. Companies target a 10-15% margin. But more often than less such margin ends up in a 7-10%.
Under this conditions it is very difficult to ensure that all workers get or will get a living wage. We can ensure a minimum wage, but in India, such minimum can be very low.
What we do.
We never bargain the price. How can we consider ourselves a fair trade company if we bargain constantly every meter of fabric and every garment to be stitched. How can we expect that workers ever get a living wage if we are bargaining their wages, not that of the companies.
We also work only with small to medium companies, many times family businesses like weavers, printers and dyers. And that are conscious about the well being of their workers and the environment.
Our Commitment.
Never Ending Improvement

Committed to long lasting products, we work daily on improving our designs, our fabrics and our sewing within a model that encourages sustainable fashion.

Sustainability

We promise to compromise only when there is no other better sustainable option for us. And to tell you the truth about our sustainability efforts, without greenwashing.

Fair Trade

Certifications are not always feasible for fashion workshops. It is costly, and involves resources many don't have. Specially our suppliers who are small time artisans or small tailoring workshops. In the past 3 years it has been difficult to personally verify the conditions of the suppliers we work with. As the company grows, we hope to be able to improve this aspect of our work and strongly implement our Code of Conduct.

Urban Artisans
The Real Artists Who Make Your Clothes
Tailor
When you need someone more than a tailor. We have worked out some of our patterns with him.
Jairaj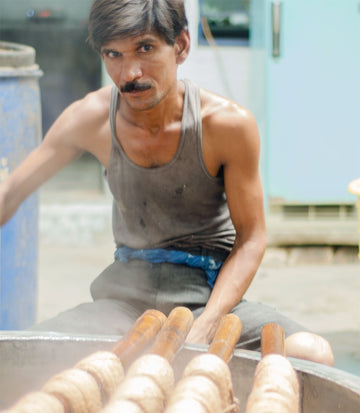 Dyer
For the complex technique of natural dyeing, you need patience and an expert!
Arun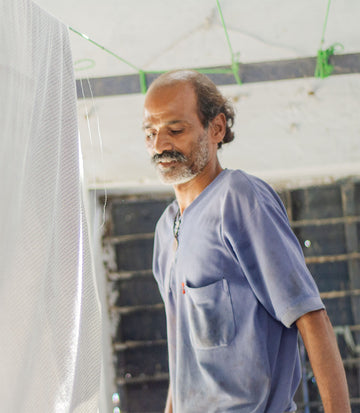 Printer
Screen & block printing are not easy techniques. And with organic pigments it is even more complex, but results are great.
Vikram